T-REIGN - Gear Attachment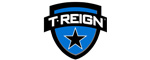 Get to your Gear. When you need it.

T-REIGN™ retractable gear tethers are rugged, weather resistant and designed to perform
even under the most demanding conditions. By keeping pocketknifes, compasses, flashlights
or GPS attached to a T-REIGN retractable gear tether one gets the peace of mind that comes
from knowing these critical tools are always handy.
Plus, they are out of the way when not in use, making outdoor activities safer as well as
more convenient and enjoyable.

This comprehensive product line is perfectly suited to camping, hiking, bird watching,
fishing, hunting and almost any other activity that takes you beyond the limits of civilization.


Item No: TR-0TRG-422

Item No: TR-0TRG-421