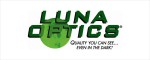 When the Night turns into Day...

Luna is built on years of experience in the night vision market and is eager
to utilize their expertise in a way that really benefits you - the customer.
It´s goal is to offer the best performing product with honest and truthful specifications
and at the most reasonable price.

Join Luna Optics and experience the quality you can see…even in the dark!


There are no products matching the selection.