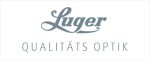 LUGER Optics. Reliability you can trust - in all situations.

Solid workmanship and first-class materials make
LUGER binoculars, spotting scopes and riflescopes indispensable companions in all situations.
Whether you choose an entry model or a top model:
The carefully selected, accurately cut and immaculately coated lenses
guarantee bright images and sharp contrasts.
Strong, tough materials protect the high-grade optics durably and with absolute reliability.


Spotting Scopes
Item No: LU-70-1236X501
Riflescopes
Item No: LU-26-156X42

Item No: LU-24-156X44

Item No: LU-25-39X42
Item No: LU-21-4X32

Item No: LU-20-37X20

Item No: LU-20-4X20
Item No: LU-20-4X15

Item No: LU-18-110
Tripods
Item No: LU-73-71

Item No: LU-73-70

Item No: LU-73-80